Principles of Database Management
The Practical Guide to Storing, Managing and Analyzing Big and Small Data
To be published by Cambridge University Press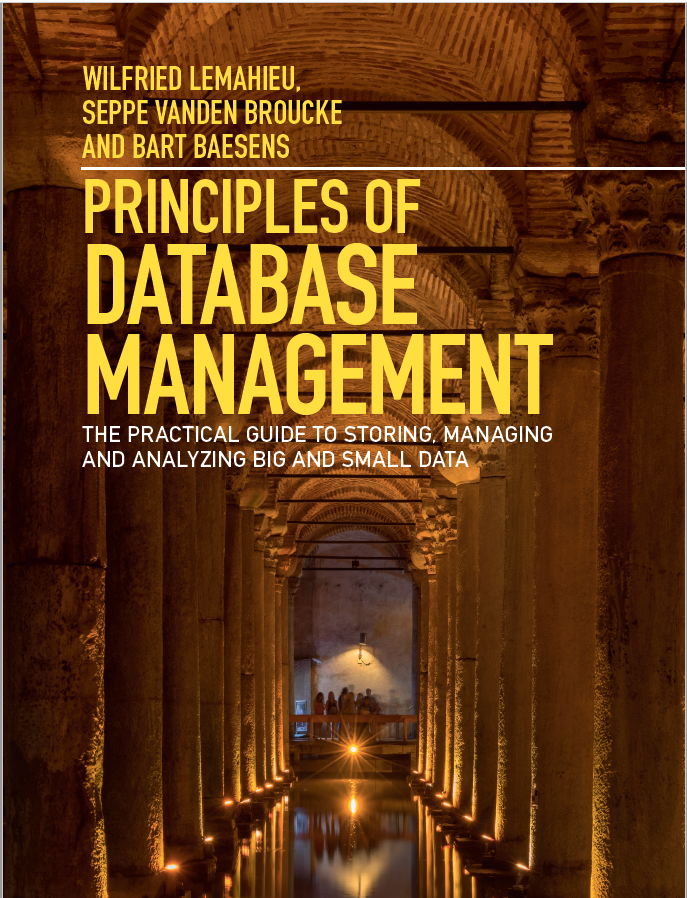 This book covers the principles of database management. It starts by defining databases and the various steps of database design. A next part zooms into different types of database systems: pre-relational, relational, object oriented, XML and no-SQL databases. Subsequent chapters discuss transaction management and physical data storage aspects. Also data access and data integration in an x-tier environment are extensively covered. The book concludes by discussing data warehousing, big data and analytics. Throughout the book, we will include various examples and case studies to illustrate and clarify the concepts discussed. Every chapter will conclude with a set of self-study questions such that the book can be easily used as a textbook by colleague instructors. We will also extensively report on both our research and industry experience on the topic to further illustrate the practical impact of the concepts discussed.
Features
The book is the result of having taught an undergraduate database management class and a postgraduate advanced database management class for more than 10 years now. The undergraduate class was attended by students from a variety of different backgrounds (on average 120 students per year). Throughout these years, we have found no good textbook which covers the material in a comprehensive way without getting flooded by theoretical detail and losing focus. Hence, after having teamed up together, we decided to start writing a book ourselves. We believe the outstanding features of our book originate from the strength of our author team.
Given the above considerations, the key distinctive features of our book are:
The right balance between theory and practice
End-to-end coverage starting with legacy technologies to emerging trends such as Big Data, NoSQL databases, data quality, etc.
A unique perspective on how lessons learnt from past data management could be relevant in today's technology setting (e.g. navigational access and its perils in Codasyl and XML/OO databases)
A critical reflection and accompanying risk management considerations when implementing the various technologies considered
The inclusion of exercises and case studies originating from a diversified and complimentary business experience
An encompassing cross chapter use case that is revisited and expanded in each chapter
Target audience
The target audience of our book consists of:
Under- or postgraduate students taking courses on database management in BSc and MSc programmes on Information Management and/or Computer Science
Business professionals who would like to refresh or update their knowledge on database management
Database administrators, database developers or database programmers interested in new developments in the area
The book can also be used by tutors in courses such as the following:
Principles of Database Management
Database Modelling
Database Systems
Data Management
Data Modelling
It can also be useful to universities working out degrees in e.g. Big Data & Analytics and Data Science.
Table of contents
Part 1: Databases and Database Design
Chapter 1: Fundamental Concepts of Database Management (

Show/hide details

)

Applications of Database Technology
Key Definitions
File versus Database Approach to Data Management

The File-Based Approach
The Database Approach

Elements of a Database System

Database Model Versus Instances
Data Model
The Three Layer Architecture
Catalog
Database Users
Database Languages

Advantages of Database Systems and Database Management

Data Independence
Database Modelling
Managing Structured, Semi-Structured and Unstructured Data
Managing Data Redundancy
Specifying Integrity Rules
Concurrency Control
Backup and Recovery Facilities
Data Security
Performance Utilities

Chapter 2: Architecture and Categorization of DBMSs (

Show/hide details

)

Architecture of a DBMS

Connection and Security Manager
DDL Compiler
Query Processor
Storage Manager
DBMS utilities
DBMS interfaces

Categorization of DBMSs

Categorization Based on Data model
Categorization Based upon Degree of Simultaneous Access
Categorization Based on Architecture
Categorization Based on Usage

Chapter 3: Conceptual Data Modeling (

Show/hide details

)

Phases of Database Design
The Entity Relationship Model

Entity Types
Attribute Types
Relationship Types
Weak Entity Types
Ternary Relationship Types
Examples of the ER Model
Limitations of the ER Model

The Enhanced Entity Relationship (EER) Model

Specialization/Generalization
Categorization
Aggregation
Examples of the EER Model
Designing an EER model

The UML Class Diagram

Recap of Object Orientation
Classes
Variables
Access Modifiers
Associations
Specialization/Generalization
Aggregation
UML Example
Advanced UML Modeling Concepts
UML versus EER

Chapter 4: Organizational Aspects of Data Management (

Show/hide details

)

Data Management

Catalogs and the Role of Metadata
Metadata Modelling
Data Quality
Data Governance

Roles in Data Management

Information Architect
Database Designer
Data Owner
Data Steward
Database Administrator (DBA)
Data Scientist
Part 2: Types of Database Systems
Chapter 5: Legacy Databases (

Show/hide details

)

The Hierarchical Model
The Codasyl Model

Chapter 6: Relational Databases: The Relational Model (

Show/hide details

)

The Relational Model

Basic Concepts
Formal Definitions
Types of Keys
Relational constraints
Example Relational Data Model

Normalization

Insertion, Deletion and Update Anomalies in an Unnormalized Relational Model
Informal Normalization Guidelines
Functional Dependencies and Prime Attribute Type
Normalization Forms

Mapping a Conceptual ER Model to a Relational Model

Mapping Entity Types
Mapping Relationship Types
Mapping Multivalued Attribute Types
Mapping Weak Entity Types
Putting it All Together

Mapping a Conceptual EER Model to a Relational Model

Mapping an EER Specialization
Mapping an EER Categorization
Mapping an EER Aggregation

Chapter 7: Relational Databases: Structured Query Language (SQL) (

Show/hide details

)

Relational Database Management Systems and SQL

Key Characteristics of SQL
Three-Layer Database Architecture

SQL Data Definition Language (SQL DDL)

Key DDL Concepts
DDL Example
Referential Integrity Constraints
Drop and ALTER Command

SQL Data Manipulation Language (SQL DML)

SQL SELECT statement
SQL INSERT Statement
SQL DELETE Statement
SQL UPDATE Statement

SQL Views
SQL Indexes
SQL Prvileges
SQL for Metadata Management

Chapter 8: Object Oriented Databases and Object Persistence (

Show/hide details

)

Recap: Basic Concepts of OO
Advanced Concepts of OO

Method Overloading
Inheritance
Method Overriding
Polymorphism and Dynamic Binding

Basic Principles of Object Perstistence
OODBMS

Object Identifiers
ODMG Standard
Object Model
Object Definition Language (ODL)
Object Query Language (OQL)
Language Bindings

Evaluating OODBMSs

Chapter 9: Extended Relational Databases (

Show/hide details

)

Limitations of the Relational Model
Active RDBMS Extensions

Triggers
Stored Procedures

Object-relational RDBMS Extensions

User-Defined Types (UDTs)
User-Defined Functions (UDFs)
Inheritance
Behavior
Polymorphism
Collection Types
Large Objects

Recursive SQL Queries

Chapter 10: XML Databases (

Show/hide details

)

Extensible Markup Language

Basic Concepts
Document Type Definition and XML Schema Definition
Extensible Stylesheet Language
Namespaces
XPath

Processing XML Documents
Storage of XML Documents

The Document-Oriented Approach for Storing XML Documents
The Data-Oriented Approach for Storing XML Documents
The Combined Approach for Storing XML Documents

Differences between XML Data and Relational Data
Mappings between XML Documents and (Object-)relational Data

Table-Based Mapping
Schema-Oblivious Mapping

Schema-aware Mapping
Searching XML Data

Full-text search
Keyword-Based Search
Structured Search with XQuery
Semantic Search with RDF and SPARQL

XML for Information Exchange

Message Oriented Middleware (MOM)
SOAP-Based Web Services
REST-Based Web Services
Web Services and Databases

Other Data Representation Formats

Chapter 11: NoSQL Databases (

Show/hide details

)

The NoSQL Movement

The End of the 'One Size Fits All' Era?
The Emergence of the NoSQL Movement

Key-value Stores

From Keys to Hashes
Horizontal Scaling
An Example: Memcached
Request Coordination
Consistent Hashing
Replication and Redundancy
Eventual Consistency
Stabilization
Integrity Constraints and Querying

Tuple and Document Stores

Items with Keys
Filters and Queries
Complex Queries and Aggregation with MapReduce
SQL After All…

Column-oriented Databases
Graph Based Databases

Cypher Overview
Exploring a Social Graph

Other NoSQL Categories
Part 3: Physical Data Storage, Transaction Management and Database Access
Chapter 12: Physical File Organization and Indexing (

Show/hide details

)

Storage Hardware and Physical Database Design

The Storage Hierarchy
Internals of Hard Disk Drives
From Logical Concepts to Physical Constructs

Record Organization
File Organization

Introductory Concepts: Search Keys, Primary and Secondary File Organization
Heap File Organization
Sequential File Organization
Random File Organization (Hashing)
Indexed Sequential File Organization
List Data Organization (Linear and Nonlinear Lists)
Secondary Indexes and Inverted Files
B-Trees and B+-Trees

Chapter 13: Physical Database Organization (

Show/hide details

)

Physical Database Organization and Database Access Methods

From Database to Tablespace
Index Design
Database Access Methods
Join Implementations

Enterprise Storage Subsystems and Business Continuity

Disk Arrays and RAID
Enterprise Storage Subsystems
Business Continuity

Chapter 14: Basics of Transaction Management (

Show/hide details

)

Transactions, Recovery and Concurrency Control
Transactions and Transaction Management

Delineating Transactions and the Transaction Lifecycle
DBMS Components Involved in Transaction Management
The Logfile

Recovery

Types of Failures
System Recovery
Media Recovery

Concurrency Control

Typical Concurrency Problems
Schedules and Serial Schedules
Serializable Schedules
Optimistic and Pessimistic Schedulers
Locking and Locking Protocols

The ACID Properties of Transactions

Chapter 15: Accessing Databases and Database APIs (

Show/hide details

)

Database System Architectures

Centralized System Architectures
Tiered System Architectures

Classification of Database APIs

Proprietary versus Universal APIs
Embedded Versus Call-level APIs
Early Binding Versus Late Binding

Universal Database APIs

ODBC
OLE DB and ADO
ADO.NET
Java DataBase Connectivity (JDBC)
Intermezzo: SQL Injection and Access Security
SQLJ
Intermezzo: Embedded APIs versus Embedded DBMSs
Language-Integrated Querying

Object Persistenct and Object Relational Mapping APIs

Object Persistence with Enterprise JavaBeans
Object Persistence with the Java Persistence API
Object Persistence with Java Database Objects
Object Persistence in Other Host Languages

Database API Summary
Database Access in the World Wide Web

Introduction: The Original Web Server
The Common Gateway Interface: Towards Dynamic Web Pages
Client-side Scripting: The Desire for a Richer Web
JavaScript as a Platform
DBMSs Adapt: REST, Other Web Services and a Look Ahead

Chapter 16: Data Distribution and Distributed Transaction Management (

Show/hide details

)

Distributed Systems and Distributed Databases
Architectural Implications of Distributed Databases
Fragmentation, Allocation and Replication

Vertical Fragmentation
Horizontal Fragmentation (Sharding)
Mixed Fragmentation
Replication
Distribution and Replication of Metadata

Transparency
Distributed Query Processing
Distributed Transaction Management and Concurrency Control

Primary Site and Primary Copy 2PL
Distributed 2PL
The Two-Phase Commit Protocol (2PC)
Optimistic Concurrency and Loosely Coupled Systems
Compensation-Based Transaction Models

Eventual Consistency and Base Transactions

Horizontal Fragmentation and Consistent Hashing
The CAP Theorem
BASE Transactions
Multi-Version Concurrency Control and Vector Clocks
Quorum-Based Consistency
Part 4: Data Warehousing, Data Governance and (Big) Data Analytics
Chapter 17: Data Warehousing and Business Intelligence (

Show/hide details

)

Operational versus Tactical/Strategic Decision Making
Data Warehouse Definition
Data Warehouse Schemas

Star Schema
Snowflake Schema
Fact Constellation
Specific Schema Issues

The Extraction Transformation and Loading (ETL) Process
Data Marts
Virtual Data Warehouses and Virtual Data Marts
Operation Data Store
Data Warehouses versus Data Lakes
Business Intelligence

Query and Reporting
Pivot Tables
On-Line Analytical Processing (OLAP)

Chapter 18: Data Integration, Data Quality and Data Governance (

Show/hide details

)

Data and Process Integration

Convergence of Analytical and Operational Data Needs
Data Integration and Data Integration Patterns
Data Services and Data Flows in the Context of Data and Process Integration

Searching Unstructured Data and Enterprise Search

Principles of Full Text Search
Indexing Full Text Documents
Web Search Engines
Enterprise Search

Data Quality and Master Data Management
Data Governance

Total Data Quality Management (TQDM)
Capability Maturity Model Integration (CMMI)
Data Management Body of Knowledge (DMBOK)
Control Objectives for Information and Related Technology (COBIT)
Information Technology Infrastructure Library (ITIL)

Outlook

Chapter 19: Big Data (

Show/hide details

)

The 5 V's of Big Data
Hadoop

History of Hadoop
The Hadoop Stack

SQL on Hadoop

HBase: The First Database on Hadoop
Pig
Hive

Apache Spark

Spark Core
Spark SQL
MLlib, Spark Streaming and GraphX

Chapter 20: Analytics (

Show/hide details

)

The Analytics Process Model
Example Analytics Applications
Data Scientist Job Profile
Data Preprocessing

Denormalizing Data for Analysis
Sampling
Exploratory Analysis
Missing Values
Outlier Detection and Handling

Types of Analytics

Predictive Analytics
Evaluating Predictive Models
Descriptive Analytics
Social Network Analytics

Post Processing of Analytical Models
Critical Success Factors for Analytical Models
Economic Perspective on Analytics

Total Cost of Ownership (TCO)
Return on Investment (ROI)
In- versus Outsourcing
On-Premise versus Cloud Solutions
Open Source versus Commercial Software

Improving the ROI of Analytics

New Sources of Data
Data Quality
Management Support
Organizational Aspects
Cross-Fertilization

Privacy and Security

Overall Considerations Regarding Privacy and Security
The RACI Matrix
Accessing Internal Data
Privacy Regulation
What you will find on this site
After the book is released, readers will be able to work with an interactive environment to:
Play around with SQL queries
Play around with a MongoDB NoSQL database
Play around with a Neo4j graph database
Play around with an HBase database
In addition, we will provide extra material (video lectures, slides, ...) and maintain an errata list here as well.