Principles of Database Management
The Practical Guide to Storing, Managing and Analyzing Big and Small Data
Cambridge University Press — Order on Amazon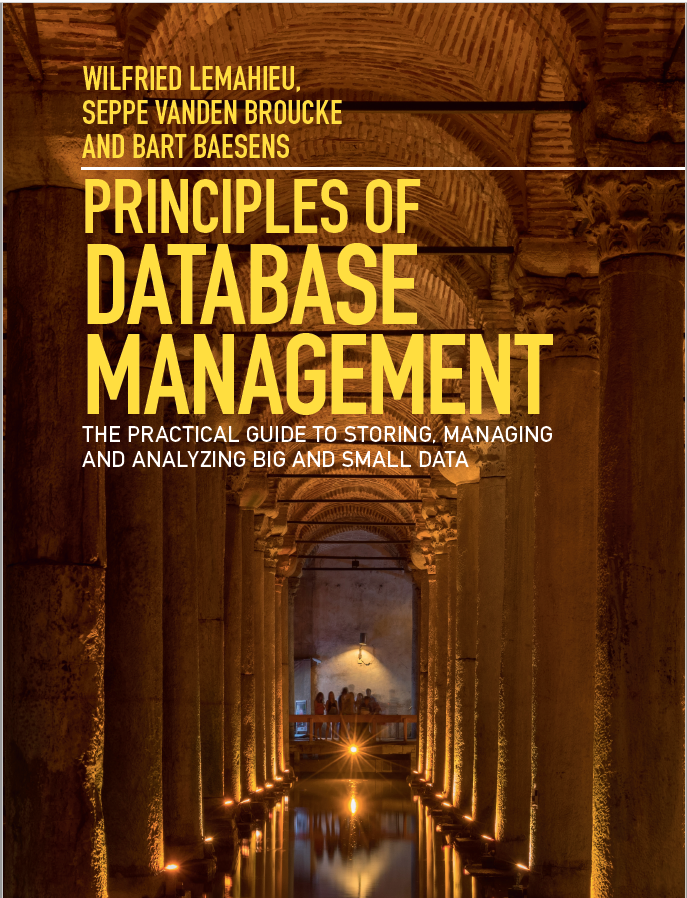 This comprehensive textbook teaches the fundamentals of database design, modeling, systems, data storage, and the evolving world of data warehousing, governance and more. Written by experienced educators and experts in big data, analytics, data quality, and data integration, it provides an up-to-date approach to database management. This full-color, illustrated text has a balanced theory-practice focus, covering essential topics, from established database technologies to recent trends, like Big Data, NoSQL, and more. Fundamental concepts are supported by real-world examples, query and code walkthroughs, and figures, making it perfect for introductory courses for advanced undergraduates and graduate students in information systems or computer science.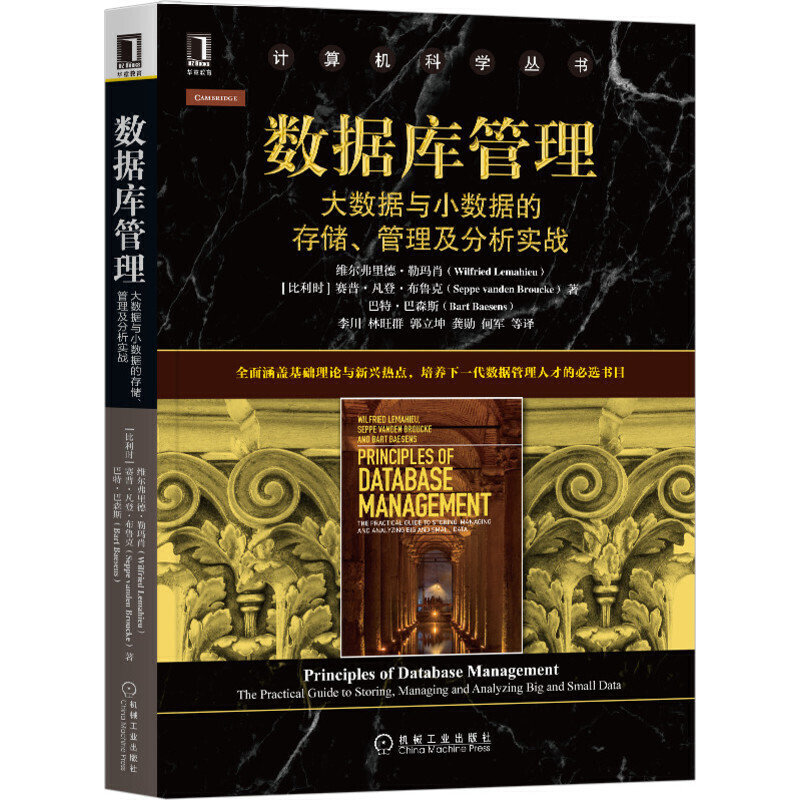 We are happy to announce that the Chinese translation of our book is now available.

→ Buy on DangDang or JD.com.
→ Download all course slides in PPT format in a ZIP archive (Mandarin version). 以ZIP存档下载PPT格式的所有课程幻灯片(普通话版)。
* Download a presentation covering the book's features *
Endorsements
"This book covers everything you will need to teach in a database implementation and design class. With some chapters covering big data, analytic models/methods, and NoSQL, it can keep our students up-to-date with these new technologies in data management related topics."
– Han-fen Hu, University of Nevada, Las Vegas
"Although there have been a series of classical textbooks on database systems, the new dramatic advances call for an updated text covering the latest significant topics, such as big data analytics, NoSQL and much more. Fortunately, this is exactly what this book has to offer. It is highly desirable for training the next generation of data management professionals."
– Jian Pei, Simon Fraser University
"I like the way the book covers both traditional database topics and newer material such as big data, No-SQL databases, and data quality. The coverage is just right for my course and the level of the material is very appropriate for my students. The book also has clear explanations and good examples."
– Barbara Klein, University of Michigan
"This book provides a unique perspective on database management and how to store, manage, and analyze small and big data. The accompanying exercises and solutions, cases, slides, and YouTube lectures turn it into an indispensable resource for anyone teaching an undergraduate or postgraduate course on the topic."
– Wolfgang Ketter, Erasmus University Rotterdam
"It is a pleasure to study this new book on database systems. The book offers a fantastically fresh approach to database teaching. The mix of theoretical and practical contents is almost perfect, the content is up-to-date and covers the recent ones, the examples are nice, and the database testbed provides an excellent way of understanding the concepts. Coupled with the authors 'expertise, this book is an important addition to the database field."
– Arnab Bhattacharya, Indian Institute of Technology, Kanpur
"This is a very modern textbook that fills the needs of current trends without sacrificing the need to cover the required database management systems fundamentals."
– George Dimitoglou, Hood College
"This book is a much-needed foundational piece on data management and data science. The authors successfully integrate the fields of database technology, operations research and big data analytics, which have often been covered independently in the past. A key asset is its didactical approach that builds on a rich set of industry examples and exercises. The book is a must-read for all scholars and practitioners interested in database management, big data analytics and its applications."
– Jan Mendling, Institute for Information Business, Vienna
"This guide to big and small data management addresses both fundamental principles and practical deployment. It reviews a range of databases and their relevance for analytics. The book is useful to practitioners because it contains many case studies, links to open-source software, and a very useful abstraction of analytics that will help them better choose solutions. It is important to academics because it promotes database principles which are key to successful and sustainable data science."
– Sihem Amer-Yahia, Laboratoire d'Informatique de Grenoble; Editor-in-Chief, The VLDB journal
"Principles of Database Management creates a precious resource for researchers, industry practitioners, and students of databases and big data alike. This easy-to-read, well-organized book provides coverage of a number of important topics and techniques about storing, managing, and analyzing big and small data that are specifically not covered in most database or data analytics books. If you work in the area of scalable data management and analysis, you owe it to yourself to read this book."
– Kunpeng Zhang, University of Maryland
"Database and big data analytics are transforming our daily lives, businesses, and society at large. To achieve competitive advantage in this new environment, we should be able to collect, manage, and analyze a variety of datasets using database systems. This book, written by database and analytics experts, provides a comprehensive view of database technologies from fundamental principles to cutting-edge applications in business intelligence and big data analytics."
– Gene Moo Lee, University of British Columbia
"The book will provide readers with relevant concepts for today's databases at a perfect reading and technical level."
– Douglas Hawley, Northwest Missouri State University
"Here is a book with a strong practical orientation, which covers the recent database management topics relevant to industry. It is a good book with a logical structure to use in an undergraduate database management course."
– Faruk Arslan, University of Houston, Clear Lake
"Data science success stories and big data applications are only possible because of advances in database technology. This book provides both a broad and deep introduction to databases. It covers the different types of database systems (from relational to noSQL) and manages to bridge the gap between data modeling and the underlying basic principles. The book is highly recommended for anyone that wants to understand how modern information systems deal with ever-growing volumes of data."
– Wil van der Aalst, RWTH Aachen University
"Principles of Database Management is my favorite textbook for teaching a course on database management. Written in a well-illustrated style, this comprehensive book covers essential topics in established data management technologies and recent discoveries in data science. With a nice balance between theory and practice, it is not only an excellent teaching medium for students taking information management and/or data analytics courses, but also a quick and valuable reference for scientists and engineers working in this area."
– Chuan Xiao, assistant professor, Graduate School of Informatics, Nagoya University, Japan
"「Principles of Database Management」は、私がデータベース管理に関する授業を教える際に愛用している教材である。この本には、基礎的なデータ管理技術における重要なトピックや、近年におけるデータサイエンスの発見に関して、大変わかりやすく解説されている。理論と実践のバランスがよく取れており、情報管理やデータ解析に関する授業を受ける学生にとって優れた教材であることは勿論のこと、この分野に携わる科学者やエンジニアにとってもまた、クイックリファレンスや貴重な参考資料になり得る"
– Chuan Xiao, assistant professor, Graduate School of Informatics, Nagoya University, Japan
"The database field has been evolving for several decades and the need for updated textbooks is continuous. Now, this need is covered by this fresh book by Lemahieu, van den Broucke and Baesens. It spans from traditional topics – such as the Relational model and SQL – to more recent topics – such as Distributed computing with Hadoop and Spark as well as Data Analytics. The book can be used as an introductory text and for graduate courses."
- Yannis Manolopoulos, Data Science & Engineering Lab, Aristotle University of Thessaloniki
"This book is a very timely book with outstanding coverage of database topics and excellent treatment of database details. It not only gives very solid discussions of traditional topics like data modeling and relational databases but also contains refreshing contents on frontier topics such as XML databases, NoSQL databases, big data, and analytics. For those reasons, this will be a good book for database professionals who will keep using it for all stages of database studies and works."
- J. Leon Zhao, Chair Professor of Information Systems, City University of Hong Kong
"This accessible, authoritative book introduces the reader the most important fundamental concepts of data management, while providing a practical view of recent advances. Both are essential for data professionals today."
- Foster Provost, Professor of Data Science & Information Systems and Andre Meyer Faculty Fellow, New York University, Stern School of Business
"As we are entering a new technological era of intelligent machines powered by data-driven algorithms, understanding fundamental concepts of data management and their most current practical applications has become more important than ever. This book is a timely guide for anyone interested in getting up to speed with the state of the art in database systems, big data technologies, and data science. It is full of insightful examples and case studies with direct industrial relevance."
- Nesime Tatbul, Intel Labs and MIT
"This book covers a comprehensive array of topics on data, which is an important notion nowadays for both academia and practitioners. It is impressive to see how the authors can balance the contents of database management from a combined perspective of classics and mainstreams, in a forward-looking fashion. The emphasis on big and small data is of great value in addressing various issues of data-centric business, where size, accessibility, analytics and governance matter differently in different contexts. I very much enjoy reading this book because of not only its high quality but also its connection with the colleagues at KU Leuven."
- Dr. Guoqing Chen, EMC Chair Professor, Tsinghua SEM (Beijing China)
"这本书涵盖了关于数据的全面的主题,这对学术界和从业者来说是一个重要的概念。令人印象深刻的是,作者能够以前瞻性的方式,从经典和主流的结合角度来平衡数据库管理的内容。强调大数据和小数据对解决以数据为中心的业务的各种问题具有重大价值,其中规模,可访问性,分析和治理在不同情况下的重要性不同。我非常喜欢阅读这本书,因为它不仅质量高,而且还与KU Leuven的同事有联系。"
- 陈国青博士清华大学经济管理学院 EMC讲席教授
Features
Principles of Database Management provides readers with the comprehensive database management information to understand and apply the fundamental concepts of database design and modeling, database systems, data storage, and the evolving world of data warehousing, governance and more. Designed for those studying database management for information management or computer science, this well-illustrated textbook has a well-balanced theory-practice focus and covers the essential topics, from established database technologies up to recent trends like Big Data, NoSQL, and analytics. On-going case studies, drill-down boxes that reveal deeper insights on key topics, retention questions at the end of every section of a chapter, and connections boxes that show the relationship between concepts throughout the text are included to provide the practical tools to get started in database administration.
Given the above considerations, the key distinctive features of our book are:
Full-color illustrations throughout the text
Extensive coverage of important trending topics, including data warehousing, business intelligence, data integration, data quality, data governance, Big Data, and analytics
An online playground with diverse environments, including MySQL for querying; MongoDB; Neo4j Cypher; and a tree structure visualization environment
Hundreds of examples to illustrate and clarify the concepts discussed that can be reproduced on the book's companion online playground
Case studies, review questions, problems, and exercises in every chapter
Additional cases, problems, and exercises in the appendix
Extra lecture materials including video lectures and slides in English and Mandarin
Target audience
The target audience of our book consists of:
Under- or postgraduate students taking courses on database management in BSc and MSc programmes on Information Management and/or Computer Science
Business professionals who would like to refresh or update their knowledge on database management
Database administrators, database developers or database programmers interested in new developments in the area
The book can also be used by tutors in courses such as the following:
Principles of Database Management
Database Modelling
Database Systems
Data Management
Data Modelling
It can also be useful to universities working out degrees in e.g. Big Data & Analytics and Data Science.
Table of contents
Part 1: Databases and Database Design
Chapter 1: Fundamental Concepts of Database Management (

Show/hide details

)

Applications of Database Technology
Key Definitions
File versus Database Approach to Data Management

The File-Based Approach
The Database Approach

Elements of a Database System

Database Model Versus Instances
Data Model
The Three Layer Architecture
Catalog
Database Users
Database Languages

Advantages of Database Systems and Database Management

Data Independence
Database Modelling
Managing Structured, Semi-Structured and Unstructured Data
Managing Data Redundancy
Specifying Integrity Rules
Concurrency Control
Backup and Recovery Facilities
Data Security
Performance Utilities

Chapter 2: Architecture and Categorization of DBMSs (

Show/hide details

)

Architecture of a DBMS

Connection and Security Manager
DDL Compiler
Query Processor
Storage Manager
DBMS utilities
DBMS interfaces

Categorization of DBMSs

Categorization Based on Data model
Categorization Based upon Degree of Simultaneous Access
Categorization Based on Architecture
Categorization Based on Usage

Chapter 3: Conceptual Data Modeling (

Show/hide details

)

Phases of Database Design
The Entity Relationship Model

Entity Types
Attribute Types
Relationship Types
Weak Entity Types
Ternary Relationship Types
Examples of the ER Model
Limitations of the ER Model

The Enhanced Entity Relationship (EER) Model

Specialization/Generalization
Categorization
Aggregation
Examples of the EER Model
Designing an EER model

The UML Class Diagram

Recap of Object Orientation
Classes
Variables
Access Modifiers
Associations
Specialization/Generalization
Aggregation
UML Example
Advanced UML Modeling Concepts
UML versus EER

Chapter 4: Organizational Aspects of Data Management (

Show/hide details

)

Data Management

Catalogs and the Role of Metadata
Metadata Modelling
Data Quality
Data Governance

Roles in Data Management

Information Architect
Database Designer
Data Owner
Data Steward
Database Administrator (DBA)
Data Scientist
Part 2: Types of Database Systems
Chapter 5: Legacy Databases (

Show/hide details

)

The Hierarchical Model
The Codasyl Model

Chapter 6: Relational Databases: The Relational Model (

Show/hide details

)

The Relational Model

Basic Concepts
Formal Definitions
Types of Keys
Relational Constraints
Example Relational Data Model

Normalization

Insertion, Deletion and Update Anomalies in an Unnormalized Relational Model
Informal Normalization Guidelines
Functional Dependencies and Prime Attribute Type
Normalization Forms

Mapping a Conceptual ER Model to a Relational Model

Mapping Entity Types
Mapping Relationship Types
Mapping Multivalued Attribute Types
Mapping Weak Entity Types
Putting it All Together

Mapping a Conceptual EER Model to a Relational Model

Mapping an EER Specialization
Mapping an EER Categorization
Mapping an EER Aggregation

Chapter 7: Relational Databases: Structured Query Language (SQL) (

Show/hide details

)

Relational Database Management Systems and SQL

Key Characteristics of SQL
Three-Layer Database Architecture

SQL Data Definition Language (SQL DDL)

Key DDL Concepts
DDL Example
Referential Integrity Constraints
Drop and ALTER Command

SQL Data Manipulation Language (SQL DML)

SQL SELECT statement
SQL INSERT Statement
SQL DELETE Statement
SQL UPDATE Statement

SQL Views
SQL Indexes
SQL Prvileges
SQL for Metadata Management

Chapter 8: Object Oriented Databases and Object Persistence (

Show/hide details

)

Recap: Basic Concepts of OO
Advanced Concepts of OO

Method Overloading
Inheritance
Method Overriding
Polymorphism and Dynamic Binding

Basic Principles of Object Perstistence
OODBMS

Object Identifiers
ODMG Standard
Object Model
Object Definition Language (ODL)
Object Query Language (OQL)
Language Bindings

Evaluating OODBMSs

Chapter 9: Extended Relational Databases (

Show/hide details

)

Limitations of the Relational Model
Active RDBMS Extensions

Triggers
Stored Procedures

Object-relational RDBMS Extensions

User-Defined Types (UDTs)
User-Defined Functions (UDFs)
Inheritance
Behavior
Polymorphism
Collection Types
Large Objects

Recursive SQL Queries

Chapter 10: XML Databases (

Show/hide details

)

Extensible Markup Language

Basic Concepts
Document Type Definition and XML Schema Definition
Extensible Stylesheet Language
Namespaces
XPath

Processing XML Documents
Storage of XML Documents

The Document-Oriented Approach for Storing XML Documents
The Data-Oriented Approach for Storing XML Documents
The Combined Approach for Storing XML Documents

Differences between XML Data and Relational Data
Mappings between XML Documents and (Object-)relational Data

Table-Based Mapping
Schema-Oblivious Mapping

Schema-aware Mapping
Searching XML Data

Full-text search
Keyword-Based Search
Structured Search with XQuery
Semantic Search with RDF and SPARQL

XML for Information Exchange

Message Oriented Middleware (MOM)
SOAP-Based Web Services
REST-Based Web Services
Web Services and Databases

Other Data Representation Formats

Chapter 11: NoSQL Databases (

Show/hide details

)

The NoSQL Movement

The End of the 'One Size Fits All' Era?
The Emergence of the NoSQL Movement

Key-value Stores

From Keys to Hashes
Horizontal Scaling
An Example: Memcached
Request Coordination
Consistent Hashing
Replication and Redundancy
Eventual Consistency
Stabilization
Integrity Constraints and Querying

Tuple and Document Stores

Items with Keys
Filters and Queries
Complex Queries and Aggregation with MapReduce
SQL After All…

Column-oriented Databases
Graph Based Databases

Cypher Overview
Exploring a Social Graph

Other NoSQL Categories
Part 3: Physical Data Storage, Transaction Management and Database Access
Chapter 12: Physical File Organization and Indexing (

Show/hide details

)

Storage Hardware and Physical Database Design

The Storage Hierarchy
Internals of Hard Disk Drives
From Logical Concepts to Physical Constructs

Record Organization
File Organization

Introductory Concepts: Search Keys, Primary and Secondary File Organization
Heap File Organization
Sequential File Organization
Random File Organization (Hashing)
Indexed Sequential File Organization
List Data Organization (Linear and Nonlinear Lists)
Secondary Indexes and Inverted Files
B-Trees and B+-Trees

Chapter 13: Physical Database Organization (

Show/hide details

)

Physical Database Organization and Database Access Methods

From Database to Tablespace
Index Design
Database Access Methods
Join Implementations

Enterprise Storage Subsystems and Business Continuity

Disk Arrays and RAID
Enterprise Storage Subsystems
Business Continuity

Chapter 14: Basics of Transaction Management (

Show/hide details

)

Transactions, Recovery and Concurrency Control
Transactions and Transaction Management

Delineating Transactions and the Transaction Lifecycle
DBMS Components Involved in Transaction Management
The Logfile

Recovery

Types of Failures
System Recovery
Media Recovery

Concurrency Control

Typical Concurrency Problems
Schedules and Serial Schedules
Serializable Schedules
Optimistic and Pessimistic Schedulers
Locking and Locking Protocols

The ACID Properties of Transactions

Chapter 15: Accessing Databases and Database APIs (

Show/hide details

)

Database System Architectures

Centralized System Architectures
Tiered System Architectures

Classification of Database APIs

Proprietary versus Universal APIs
Embedded Versus Call-level APIs
Early Binding Versus Late Binding

Universal Database APIs

ODBC
OLE DB and ADO
ADO.NET
Java DataBase Connectivity (JDBC)
Intermezzo: SQL Injection and Access Security
SQLJ
Intermezzo: Embedded APIs versus Embedded DBMSs
Language-Integrated Querying

Object Persistence and Object Relational Mapping APIs

Object Persistence with Enterprise JavaBeans
Object Persistence with the Java Persistence API
Object Persistence with Java Database Objects
Object Persistence in Other Host Languages

Database API Summary
Database Access in the World Wide Web

Introduction: The Original Web Server
The Common Gateway Interface: Towards Dynamic Web Pages
Client-side Scripting: The Desire for a Richer Web
JavaScript as a Platform
DBMSs Adapt: REST, Other Web Services and a Look Ahead

Chapter 16: Data Distribution and Distributed Transaction Management (

Show/hide details

)

Distributed Systems and Distributed Databases
Architectural Implications of Distributed Databases
Fragmentation, Allocation and Replication

Vertical Fragmentation
Horizontal Fragmentation (Sharding)
Mixed Fragmentation
Replication
Distribution and Replication of Metadata

Transparency
Distributed Query Processing
Distributed Transaction Management and Concurrency Control

Primary Site and Primary Copy 2PL
Distributed 2PL
The Two-Phase Commit Protocol (2PC)
Optimistic Concurrency and Loosely Coupled Systems
Compensation-Based Transaction Models

Eventual Consistency and Base Transactions

Horizontal Fragmentation and Consistent Hashing
The CAP Theorem
BASE Transactions
Multi-Version Concurrency Control and Vector Clocks
Quorum-Based Consistency
Part 4: Data Warehousing, Data Governance and (Big) Data Analytics
Chapter 17: Data Warehousing and Business Intelligence (

Show/hide details

)

Operational versus Tactical/Strategic Decision Making
Data Warehouse Definition
Data Warehouse Schemas

Star Schema
Snowflake Schema
Fact Constellation
Specific Schema Issues

The Extraction Transformation and Loading (ETL) Process
Data Marts
Virtual Data Warehouses and Virtual Data Marts
Operation Data Store
Data Warehouses versus Data Lakes
Business Intelligence

Query and Reporting
Pivot Tables
On-Line Analytical Processing (OLAP)

Chapter 18: Data Integration, Data Quality and Data Governance (

Show/hide details

)

Data and Process Integration

Convergence of Analytical and Operational Data Needs
Data Integration and Data Integration Patterns
Data Services and Data Flows in the Context of Data and Process Integration

Searching Unstructured Data and Enterprise Search

Principles of Full Text Search
Indexing Full Text Documents
Web Search Engines
Enterprise Search

Data Quality and Master Data Management
Data Governance

Total Data Quality Management (TQDM)
Capability Maturity Model Integration (CMMI)
Data Management Body of Knowledge (DMBOK)
Control Objectives for Information and Related Technology (COBIT)
Information Technology Infrastructure Library (ITIL)

Outlook

Chapter 19: Big Data (

Show/hide details

)

The 5 V's of Big Data
Hadoop

History of Hadoop
The Hadoop Stack

SQL on Hadoop

HBase: The First Database on Hadoop
Pig
Hive

Apache Spark

Spark Core
Spark SQL
MLlib, Spark Streaming and GraphX

Chapter 20: Analytics (

Show/hide details

)

The Analytics Process Model
Example Analytics Applications
Data Scientist Job Profile
Data Preprocessing

Denormalizing Data for Analysis
Sampling
Exploratory Analysis
Missing Values
Outlier Detection and Handling

Types of Analytics

Predictive Analytics
Evaluating Predictive Models
Descriptive Analytics
Social Network Analytics

Post Processing of Analytical Models
Critical Success Factors for Analytical Models
Economic Perspective on Analytics

Total Cost of Ownership (TCO)
Return on Investment (ROI)
In- versus Outsourcing
On-Premise versus Cloud Solutions
Open Source versus Commercial Software

Improving the ROI of Analytics

New Sources of Data
Data Quality
Management Support
Organizational Aspects
Cross-Fertilization

Privacy and Security

Overall Considerations Regarding Privacy and Security
The RACI Matrix
Accessing Internal Data
Privacy Regulation